The idea of armorial bearings was initiated in 2003 by the BLHS Board of Directors. They applied to the Canadian Heraldic Authority, under the powers held by the former Governor General of Canada, The Right Honourable Adrienne Clarkson, for petition for Armorial Bearings. The BLHS is the first Black heritage organization that has received Armorial Bearings, granted and recorded in the Public Register of Arms, Flags and Badges of Canada on March 15th, 2006.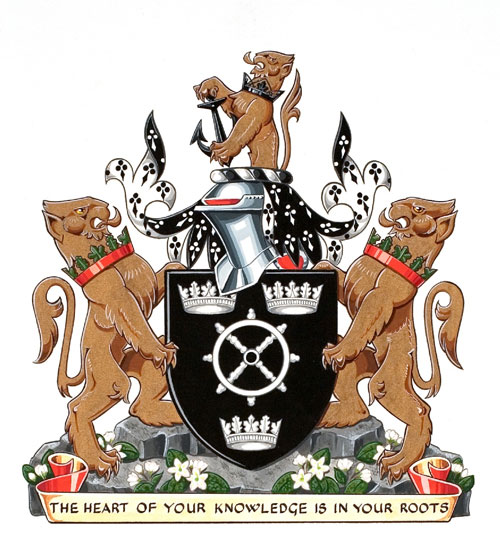 Symbolism of the Armorial Bearings
Arms: The appearance of the shield portrays directly the nature and purpose of the BLHS. The shield background is black. Loyalist civil coronets allude to the vast majority of people fleeing on fleets of ships who were non-combatants. The ship's wheel is taken from the emblem in use for some time, and represents the ships bringing settlers to their new homes. On one hand, the wheel represents the past, alluding to the ships landing in 1783. On the other hand, it represents the present, alluding to the Society's role of community development, with various interests meeting together and steering towards a goal.
Crest: The lion and the coronet represent the soldiers under the banner of the Crown whose actions allowed the people to settle in Nova Scotia. The anchor alludes to the sacrifice of the families that required them to raise anchor in their previous home and set down in their home. The mantling has apparent footprints symbolizing the trek the settlers had to make.
Motto: The Heart of Your Knowledge is in Your Roots speaks to the interest in their heritage displayed by Society members.
Supporters: The lions, symbol of the pride of Africa, demonstrates courage, since the people needed that quality to face the hardships and to start a new life. The two coronets are shown red and green, which together with black and gold, are the colours of Africa. Each coronet can represent new life emerging from sacrifice. The rock is the land area around Birchtown where the settlers landed in Nova Scotia, represented by the provincial flower – the mayflower.
Flag: The flag is a banner of the arms, meaning that the symbols of the shield represent themselves in a square form.
Badge: The Loyalist settlers, represented by the coronet, found a location at Birchtown, marked their spot and now this location in Nova Scotia is memorialized by the saltire pattern.
Original concept by Darrel E. Kennedy, Assiniboine Herald, assisted by the Heralds of the Canadian Heraldic Authority. Painter: Linda Nicholson.